DISCOGRAPHY
"It's been said often that one's reputation is determined by the people one picks as friends and collaborators. If true, then count Anthony Geraci as one well respected musician. In his performance of various piano styles, Geraci presents listeners with a concise history of the piano in American roots music."
Art Tipaldi - Editor, Blues Music Magazine
---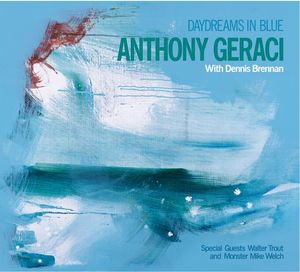 Daydreams In Blue (Shining Stone) 2020. This electrifying performance of Anthony's thirteen original compositions features an extraordinary array of musicians: Sugaray Rayford, Ronnie Earl, Sugar Ray Norcia, Monster Mike Welch, Jimi Bott, Michael "Mudcat" Ward, Kid Ramos, Michelle Evil Gal Willson, Sax Gordon, Willie Laws, Dennis Brennan, Marty Richards, Doug Woolverton, Willie J. Campbell, Troy Gonyea, Willie J. Laws, Troy Gonyea, Brian Templeton and Neil Gouvin.
#1 on Roots Music Report Blues Album Chart.
#1 on Living Blues Radio Chart August/September.
#4 On Billboard Blues Albums Chart.
 
W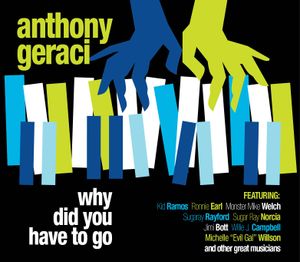 hy Did You Have To Go (Shining Stone) 2108. Featuring: Sugaray Rayford, Sugar Ray Norcia, Michelle "Evil Gal" Willson, Ronnie Earl, Kid Ramos, Monster Mike Welch, Troy Gonyea, Michael Mudcat Ward, Willie J. Campbell, Jimi Bott and others.
Nominated for Six 2019 Blues Music Awards
Song of the Year - "Angelina, Angelina" (Geraci)
Band of the Year - Anthony Geraci & The Boston Blues All-Stars
Instrumentalist-Piano, Pinetop Perkins Award (4 years in a row)
Traditional Blues Male Artist
Album of the Year - Why Did You Have To Go (Shining Stone)
Traditional Blues Album - Why Did You Have To Go

*Fifty Shades Of Blue (Delta Groove)
*Nominated for 4 Blues Music Awards
Album of the Year

Traditional Album of the Year

Song of the Year

Instrumentalist-Piano, Pinetop Perkins Award

Serendipity  (HugaDog Records)
Wake Up (Independent Release)
-With Little Anthony and the Loco-Motives
Can't Take It  (Deluge Records)
Don't Wait On Me (Deluge Records) 

-With Sugar Ray Norcia
Take It From Me (Tone Cool Records)

-With Sugar Ray and the Blue-tones                                                                                                                                            Too Far From The Bar (Severn) Featuring Little Charlie Baty.
Seeing Is Believing (Severn) 2016. *10 collective BMA Nominations-including Anthony for the Pinetop Perkins Piano Award.
Blues For Big Walter (Eller Soul) With various Artists. 2016
Living Tear To Tear (Severn) Title song written by Anthony Geraci. 7 BMA Nominations.
Evening (Severn Records)-5 Blues Music Awards: Blues Foundation Memphis, TN
My Life, My Friends, My Music (Severn Records) 2008 W.C. Handy Nomination
Hands Across The Table (Severn Records)
Knockout (Varrick/Rounder Records)
Don't Stand In My Way (Rounder Records)
Bite The Dust (Baron Records) 45 rpm EP
Boston Blues Blast (Tone Cool Records)
-With Monster Mike Welch
Right Place, Right Time (Delta Groove) Mike Welch/Mike Ledbetter  2017 release. BMA Winner.
These Blues Are Mine (Tone Cool Records)
Cryin' Hey! (Dixie Frog Records, France)
-With Sugaray Rayford
Dangerous (Delta Groove)  Also featuring: Kim Wilson, Sugar Ray Norcia, The Mannish Boys

-With Otis Grand
Blues 65  (Maingate)
Nothing Else Matters (Sequel Records-London, England)
Grand Union (Blueside Records- London, England) with Debbie Davies and Anson Funderburgh
-With Ronnie Earl
Healing Time (Telarc Records)
Smokin' (Black Top Records)
They Call Me Mr. Earl (Black Top Records)
Test Of Time (Black Top Records)
Blues Guitar Spotlight (Black Top Records)
Blues In D Natural (Leopard Records) 45 rpm EP

With Others Ar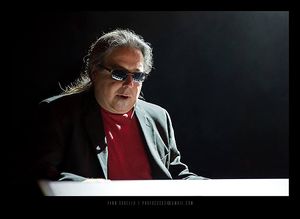 tists
Rollin' Into Memphis-The Songs of John Hyatt (Telarc Blues) - Featuring: Tab Benoit, C.J. Chenier, James Cotton, Patty Larkin, Colin Linden, Kenny Neal, Raful Neal, Odetta, Terrance Simien, Chris Smither, Irma Thomas, Kris Wiley, G.E. Smith
What You Got? (Telarc) - Kenny Neal
One Step Closer (Telarc) -Kenny Neal
Tales From the Austin Hotel (Shanachie Records) - Debbie Davies featuring the Double Trouble rhythm section
Super Harps I (Telarc Blues) - 2000 Grammy Nomination - Featuring: Charlie Musselwhite, James Cotton, Billy Branch, Sugar Ray Norcia
Super Harps II (Telarc Blues) - Featuring:  Carey Bell, Snooky Pryor, Lazy Lester, Raful Neal

The Tolono Tapes (Run It Back Records) Kilborn Alley 2017 release
Ice Cream Man (Tone Cool Records) - With John Brim
All The Way Back (M.C. Records) - Big Jack Johnson
Money Road  (Bullseye Blues and Jazz) - The Radio Kings
Travelin' Light (Deluge Records)  - Zora Young featuring Pinetop Perkins
Too Hot To Handle (Rounder Records) - Duke Robillard and the Pleasure Kings
Bocce Boogie: Live 1978 (Topcat Records) - Big Walter Horton
Little Boy Blue (JSP Records) - Big Walter Horton
Steve Hill (Bros. Records-Montreal, Canada) - Steve Hill
Soul Deep (Rounder Records) - Miki Honeycut
Betty Jean (Blind Pig Records) - The Memphis Rockabilly Band
Where Ya' At? (Kingsnake Records) - With Jumpin' Johnny (Sansone) and the Blues Party