Anthony Geraci
2021 Blues Music Award Winner, Instrumentalist-Piano/Pinetop Perkins Piano Award.
For almost 40-years pianist, Hammond organist and composer Anthony Geraci has played behind some of the most influential blues musicians of the 20th century. He is an original member of both Sugar Ray & the Bluetones and Ronnie Earl & the Broadcasters, and has been recognized for his contributions on numerous albums by nominations from both the Blues Foundation's Blues Music Awards and the Grammys.
New Recording Blues Called My Name-Official release date: May 20, 2022. Featuring Walter Trout, Anne Harris, Sugar Ray Norcia, Monster Mike Welch...The Boston Blues All-Stars. On Blue Heart Records.
Anthony Nominated for a 2021 Boston Music Award-Blues Artists of the Year.
Booking U.S./Canada/UK/Ireland
Jim Nestor
The Jim Nestor Agency
1.954.588.5144
Email: booking@bluzpik.com

EU Bookings
Fred Klee
Moonboy Talent
+32 (0) 477 91 63 97
Email: info@moonboytalent.com
Publicity and Promotion 
Betsie Brown 
Blind Raccoon LLC 
1.901.268.6065. betsie@blindraccoon.com
Anthony Geraci Signs With Blue Heart Records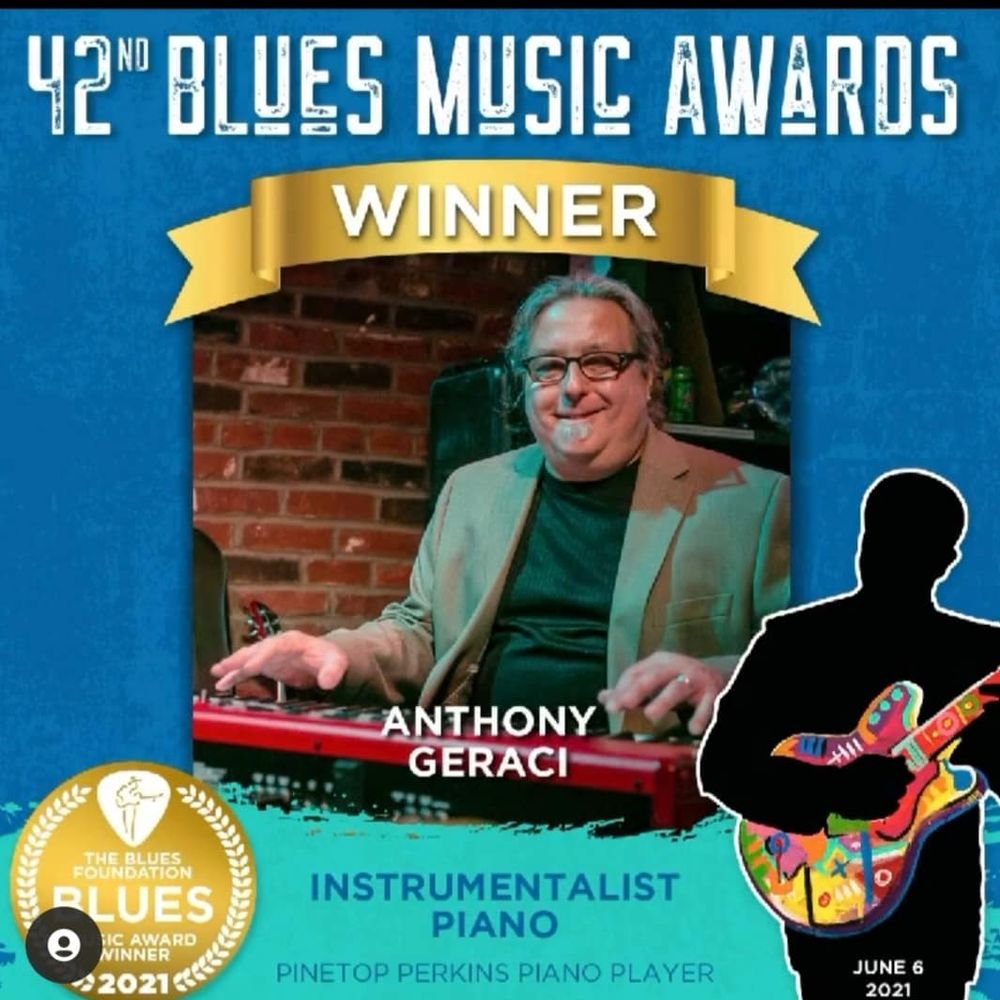 Anthony Geraci Wins 2021 Blues Music Award
Instrumentalist Piano
Pinetop Perkins Piano Player
"Thank you to the Blues Foundation for this extraordinary award. I am overwhelmed/overjoyed/and extremely humbled by this. I love what I do. Thank you."
~ Anthony Geraci
Daydreams In Blue Debuts #1 On Roots Music Report Blues Album Chart
Daydreams In Blue #4 On Billboards Blues Albums Chart
What the Critics Are Saying
"What a masterpiece! You are a master of so many styles of Blues and had great players for each. The sound and packaging are top notch. It's easy to become a sideman on your own album, but your piano and masterful playing are always prominent and clear." ~ Bob Margolin
"Geraci's dozen songs (Daydreams In Blue) offer a picture of a time when the piano was THE featured instrument. Geraci's knowledge of that history is obvious. As with everything here, Geraci is spot on,  never playing an indulgent note." ~ Art Tipaldi, Blues Music Magazine
Anthony Geraci may daydream in blue, but when night falls, all kinds of colors come tumbling out of his piano...(vocalist Dennis Brennan) intones sorrowfully while Monster Mike Welsh's guitar slices up the bread and Geraci splatters that milk all over the room...Multilayered goodness that travels well, Geraci and Brennan's latest is a spread fit for a four-star establishment that you could pack up and enjoy just as well in a low-down smoky dive. ~ Grant Britt, No Depression