"It's been said often that one's reputation is determined by the people one picks as friends and collaborators.  If true, then count Anthony Geraci as one well respected musician ...Including Geraci, count how many Blues Music Awards and nominations this talented roster has amassed.  The real fun comes when Geraci shuffles the players from each coast to ignite the session." 
Press Quotes - Daydreams In Blue
"Geraci's dozen songs (Daydreams In Blue) offer a picture of a time when the piano was THE featured instrument. Geraci's knowledge of that history is obvious. As with everything here, Geraci is spot on,  never playing an indulgent note."
- Art Tipaldi, Blues Music Magazine 
"Daydreams In Blue is a gem of a record that spotlights Geraci's epic skills and puts the piano out front, which is refreshing in the guitar-dominated sphere of the blues. It's a slick set that's going to make a lot of fans happy. Make sure you're one of them."
Mark O'Cull-Rock and Blues Muse/Martine Ehrenclou. 
"…Daydreams in Blue… is an impressive 12-track Blues release that hits the street on July 10, 2020. Anthony Geraci is not only a gifted pianist he also shows his prowess as a talented a songwriter having written 10 of the songs on this release." …No One Hears My Prayers, a standout of a song featuring the legendary Walter Trout on lead guitar. "
- Debra C. Argen,  Luxury Experience 
"… Daydreams In Blue …The entire band is grooving and hopping here, and I especially dig that drum beat. "Tutti Frutti"-This track feels like it could lift the foundation from the ground and send us all into some heavenly dance party where there are no cares, no worries, just a whole lot of bopping and celebrating.."
-  Michael Doherty,   Music Log 
"A veritable summit of the new centurions of white boys with the blues, Geraci and pals kick it out showroom style but never stint on adding the soul. With everyone on board clearly up for the challenge….Fun stuff that never lets you down, stuff like this can be the baseline for the new standard."
- Chris Spector,  Midwest Record 
"Do you like music? This disc is made for you!"- Patrick Dallongeville,  Paris-Move 
"Anthony Geraci, Mike Welch and Dennis Brennan have hit a blues grand slam. Daydreams In Blue is the new album."- Mark Stenzler,  Blues Zeppelin 
"Boston has long maintained a local blues scene that is largely unknown beyond the Mass Pike. The original House of Blues in Cambridge might have been the chain's smallest venue but it had arguably the hottest stage in the network. One regular performer there was Anthony Geraci, an original member of the Blue Monday Band. A few of the area's finest have come forward to help support him as he delivers one of his finest outings yet. Daydreams In Blue is a tight, slick, production made something special by the guitar work contributions of Monster Mike Welch and the smoke and whiskeyed vocals of Dennis Brennan."
-Ray Chelstsowki, Disciple of Sound 
"Listening to Anthony Geraci on his new album Daydreams in Blue brought back memories of that place and time with his virtuoso piano playing of both upbeat roadhouse style tunes and jazzy blues numbers that let you drift off into memory land. Every song on the album was enjoyable and I hope you will download and give it a listen. Daydreams in Blue is never a bad way to spend an afternoon or evening sometime soon."
–Ben Vee Blues,  The Ben Vee Roadhouse
Booking U.S./Canada/UK/Ireland 
Jim Nestor 
The Jim Nestor Agency 
1.954.588.5144 
booking@bluzpik.com 
EU Bookings 
Fred Klee 
Moonboy Talent 
+32 (0) 477 91 63 97 
info@moonboytalent.com 
Publicity and Promotion  
Betsie Brown  
Blind Raccoon LLC  
1.901.268.6065. betsie@blindraccoon.com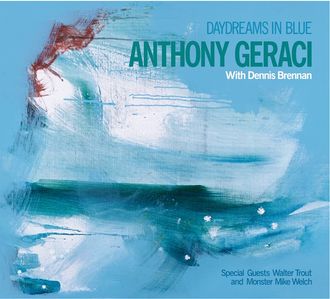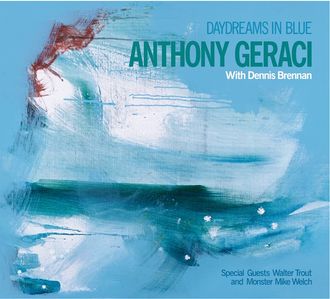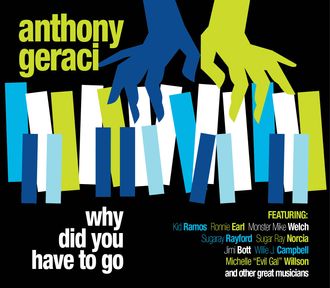 Press Photos - Click and Save